Dionís Bennàssar was born in Pollensa (Mallorca) on 3 April 1904. The son of a peasant family, he combined his childhood games with work in the countryside. He soon showed that he was a vivacious and restless child, as well as having a special inclination for drawing.
He attended the classes given at the Charity Kindergarten and subsequently those of the College of Theatine Fathers. In his adolescent years, supported by his parents, he moved to Palma in order to receive drawing and painting lessons, an education he combined with his work as a mechanic.
However, his academic education would not last long. His freedom of ideas and pictorial concepts clashed with the constrained classicism of the era and he returned to Pollensa.
Having enlisted in the army, aged eighteen, he was injured in the war with Morocco and he returned to Mallorca. The wound in his clavicle crippled his right hand, which was no obstacle to his resolute desire to become a painter, as he used his left hand. From that moment on, he focused his efforts on exalting the beauty of well-known and beloved landscapes.
With his brushes, he brought a new dimension to Mallorcan painting characterised by a grandiose vision of nature, vibrant colours and long and free brushstrokes. Around 1926 he came into contact with Anglada Camarasa, Mir, Russinyol and Tito Cittadini among others. His style displays the influence of the Anglada's work, assimilating the extraordinary wealth of materials, textures and colour in his painting.
In 1913 the Catalan master had settled in Pollensa, followed by a large number of his protégés from Paris, including Tito Cittadini who would establish a great friendship with Dionís Bennàssar.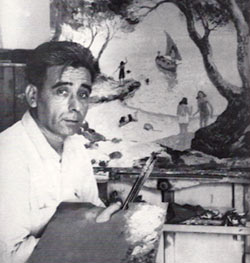 In 1940 he exhibited at the Galería Costa in Palma. On that occasion, Tito Cittadini acting as presenter of the exhibition, said of him: "His art is more than rhetoric; it is sensibility, pulsating, beauty, in the aristocratic sense of the word…"
Dionís Bennàssar managed to gain the favourable support of critics, which earned him a grant from the Provincial Council of the Balearic Islands for a study trip around the main Spanish cities. The difficult years were behind him, and the artist began to enjoy economic stability that allowed him to purchase a house, that he was able to adapt to his needs.
In 1943 he married Catalina Vicens. In 1945 his only child, Antonio, was born. Following this success, there two stages of fertile activity in the artist's career.
There was an initial period of intense technical experimentation and a later period of full maturity, which resulted in his most original oil paintings. Most of them were dedicated to the fantastic motif of underwater landscapes, that are unmistakeable for their exuberant colours. In some of these canvases his overwhelming imagination led him to deal with mythological subjects. His dedication to the landscapes of Pollensa and portraiture should not be forgotten.
A restless and nonconformist character, Dionís Bennàssar battled throughout his life to perfect his technique and plastic expression.
From his fertile artistic output, we should highlight very significant works such as: "Cançó de les àguiles", oil painting created in 1944, of which he created another version, twenty years later, that he named "Violins (Processó del dia del Corpus)".
Both works maintain the sensual, colour and personal hallmarks of the artist: "Mort de Nureddunna", a work painted in 1944; "Lo Pi de Formentor", an oil painting on canvas dating from 1947; "Perles i nacre" an oil on canvas, painted in 1963, that represents the seabed with an explosion of light and colour. This large-format work obtained the Llorenç Cerdà Prize.
Dionís Bennàssar displayed his great mastery in his numerous exhibitions. He was one of the best landscape painters, opened up a new pathway in the language of painting, and as a drawer and caricaturist he showed a quick and certain sense of perception.
He died suddenly on the night of 12 December 1967. Posthumously, several tributes have been paid to him in Mallorca, Madrid and Valencia. In 1981 he was named an Illustrious Son of Pollensa.
(Gudi Moragues Jaulin du Seutre)